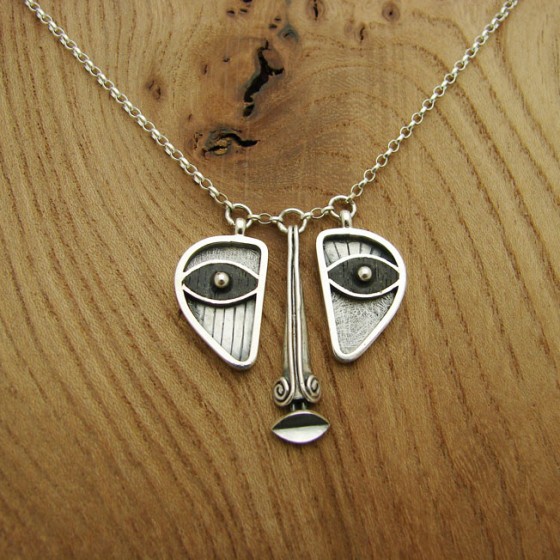 Triptych face, silver and ebony
Description
Ebony face, triptych necklace
Handmade item
Materials: silver, ebony, wood
Ships worldwide from Brighton, United Kingdom
A very original triptych necklace, three small pendants to make one face. Totally handmade in silver. The eyes are ebony inlays and all the details have been engraved by hand. A modern design with a very good finish.
The 3 parts are mobile, the expession of the face changes as it moves
The eye pendants are about 2cm high.
Please note this necklace is made to order and handmade so tiny details could be very slightly different . Also I usually cut the chain 18 inches long but feel free to let me know if you want it a different length.
I made this design years ago in one of my sketchbooks, back then it was only a drawing ,not supposed to become a 3d object or a necklace. This design has a special meaning for me because the first silver jewel I made after jewellery school was this triptich. Since then I like to remake it, with a few variations in the design,techniques and materials…
the right part of the face is the bright side of a personnality, the left side is the dark side.
( the comedy trajedy masks ).
I often make pieces of jewellery representing body or faces: It makes it more precious in a way because the piece seems to have a soul, the jewellery becomes easily a sentimental object to keep forever.