Sylvaine Frouin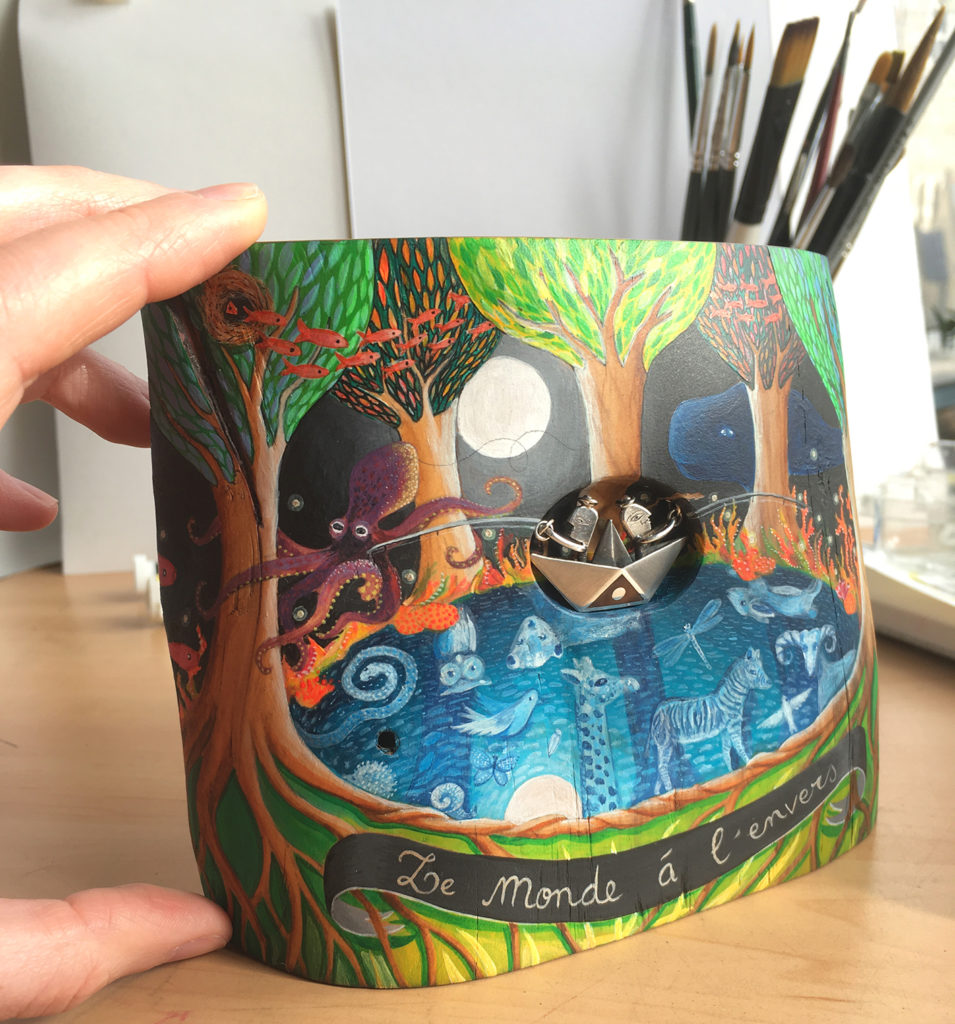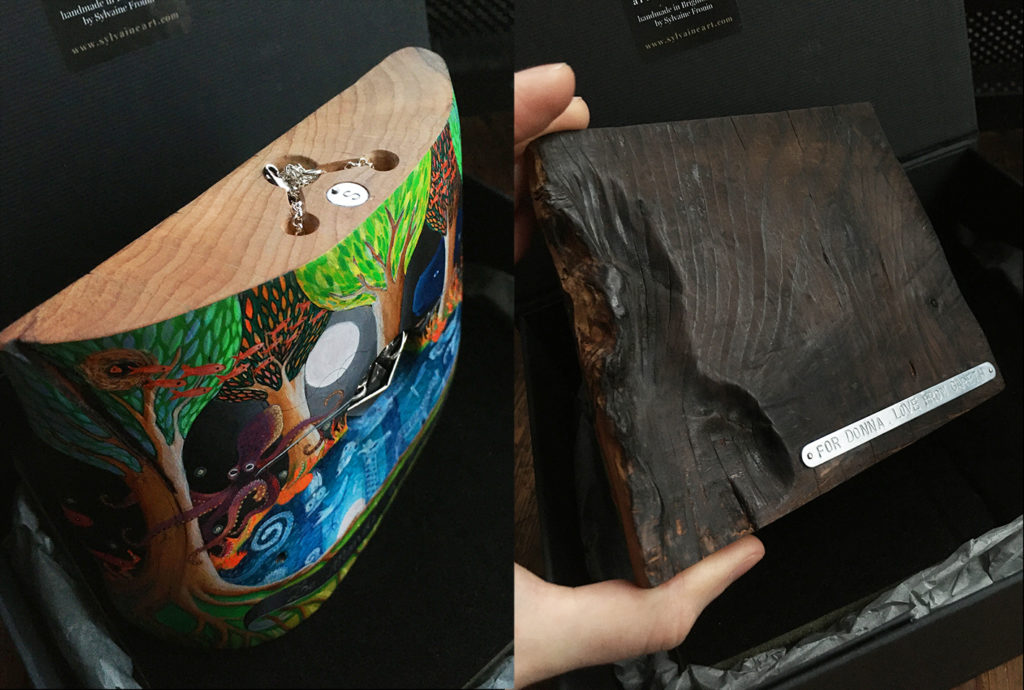 I recently created this unique commission as a special gift from a husband to his wife. She fell in love with a large painting I did a few years ago, « The World upside down », as it was on display in a local café. She, later on, visited the workshop during the Brighton Open Houses Festival, where I had a few Jewel-Objects on display. For her special birthday gift, his partner wanted a unique Jewel-Object on this theme so we decided to do a miniature replica of the large painting.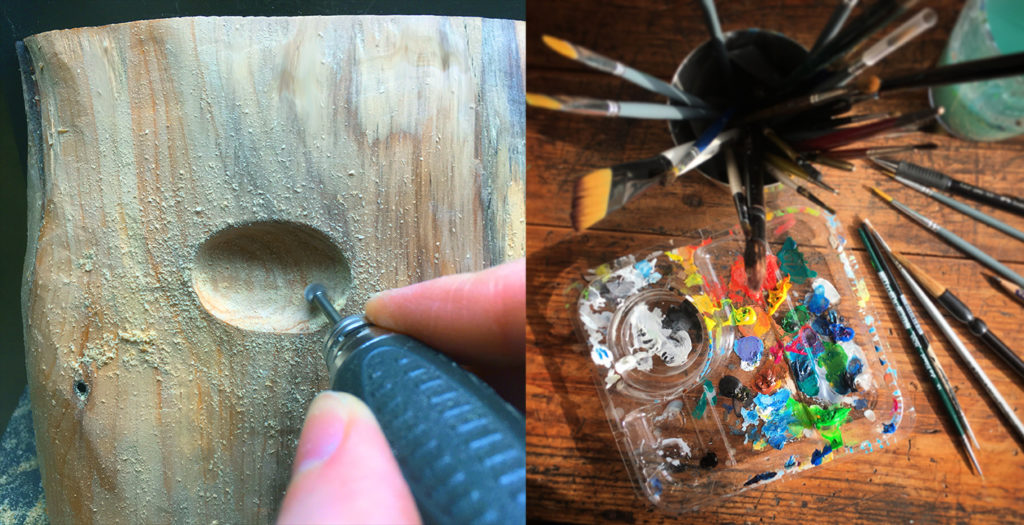 I enjoy painting on wood, it is a completely different experience from painting on a blank canvas. There is a challenge to match the beautiful natural pattern of the yew wood with an equally beautiful and subtle design. Each piece is sculpted and sanded to a smooth finish, the curvy and smooth surface is very tactile and just a perfect surface for painting. The wooden piece is inspiring in itself and I like to leave it unpainted for a while before I decide to go for it and progressively cover the surface with acrylic paint, section by section. It's a slow process, I feel there is an expanded awareness when working with a natural material. It enhances the meditating feeling and flow in my work when I cover the subtle patterns and golden colours of the wood with my own colourful patterns, it tests my use of colour. The drawing lines are guided by the wood grain behind them, it's like a conversation between me and the wood.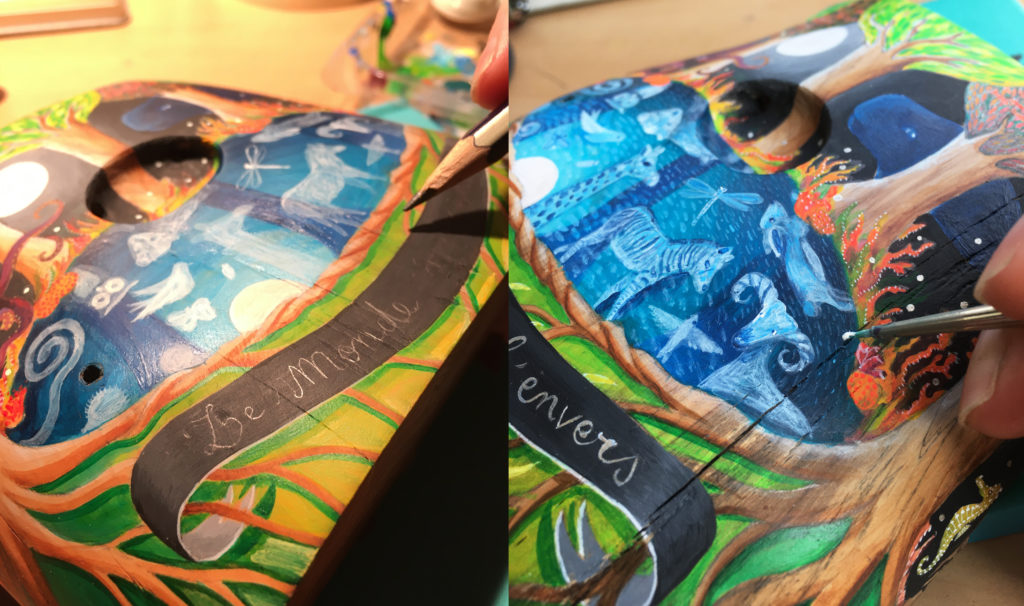 I created a first Jewel-Object version of "The world upside down" years ago with a more minimalist design so it was a great challenge to scale down the large acrylic painting, keeping the same colour palette and mood and translate most of the original details onto such a tiny surface.
I made my first Jewel-Object back in 2010 to combine my 2 passions: illustration and jewellery. This concept gives life to a jewel when it's not being worn; the piece ( pendant, ring, brooch or earrings) is embedded in its painted wooden display and becomes the heart of a colourful world or supplies the missing fragment of the story… It's a way to add meaning to a piece of jewellery. It also adds a sense of wonder. A lot of symblols can be incorporated into a piece for a unique personalised gift.
The reversible pendant is handmade is silver with wood inlays. The display is carved in a block of yew. Its painted with acrylic and ink, covered with a matt varnish.