Bespoke #1 : Brooch Jewel-Object / Commission – handmade personalised gift
Sylvaine Frouin
Here is my last commission, a brooch, handmade in silver, with lapis-lazuli and 18ct gold. It fits into a hand-painted wooden display.
This was a birthday present from a brother and sister to their mum, I created this design after a conversation with the birthday lady, she explained that she wanted a very special brooch made using some lapis-lazuli that belonged to her mother. She was after  something modern , organic and dynamic with leaves and weaving (one of her passion being willow basket making) .
I got quickly inspired with the brief and tried to draw what was already quiet clear in my mind, I wanted to play with all these elements and combine them together like an abstract painting. Playing with juxtaposition and layers, Positive/negative  spaces. Find the right balance and harmony with the dark blue  stones /flower /leaves/ weaving.
I wanted the wooden display to add something new to the brooch. On it's own, the brooch has an abstract feel ( apart of the flower in the middle), when it sits in the middle of the painting it becomes the heart of a wild bouquet, the lapis-lazuli become petals, the leaves and the weaving flow  from the surface of the silver to the wood.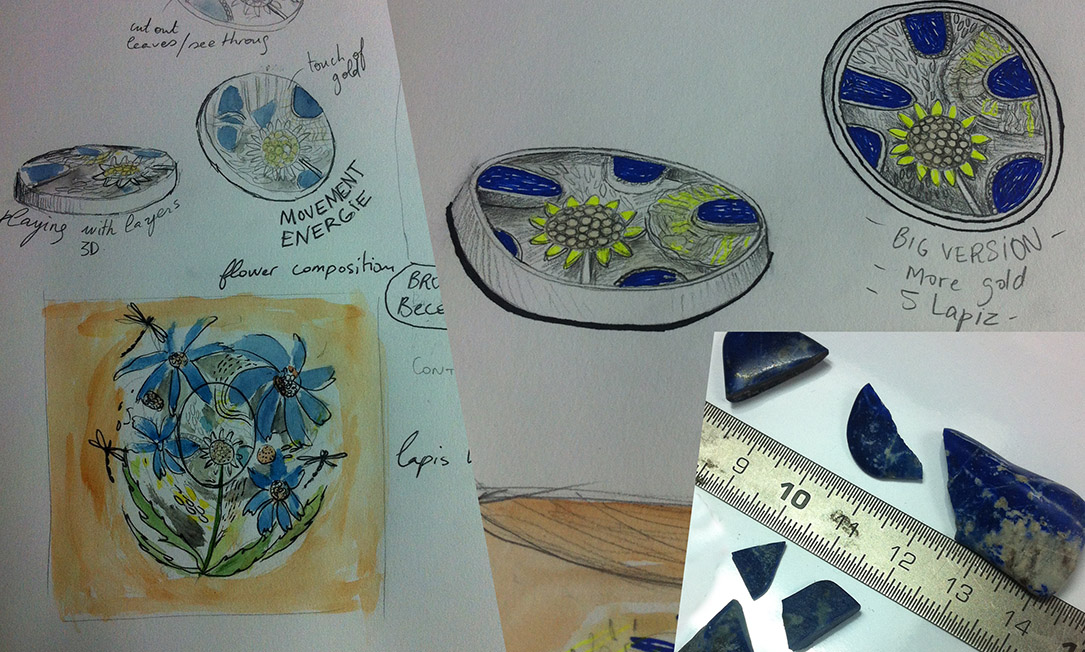 I took a few picture of the work in progress. Here is a quick retrospective of the main steps : Cutting the base into silver sheet; Trimming and reshaping  the 5 lapis-lazuli ;  Creating all the different elements from scratch and soldering them together , cutting out the leaves ; making and fixing the pin on the back; oxidising; polishing, stone setting . Then comes the wood carving in a piece of yew and painting with acrylic and ink.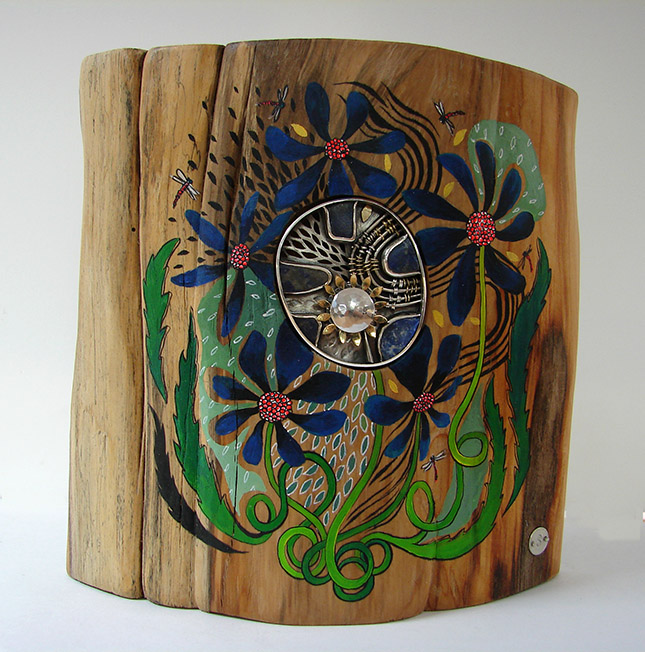 I hope you enjoyed discovering the evolution of this commission from the 1st sketches to the finished object.
Big Thanks to Jenny and Joanna for ordering this fun yet challenging  piece from me!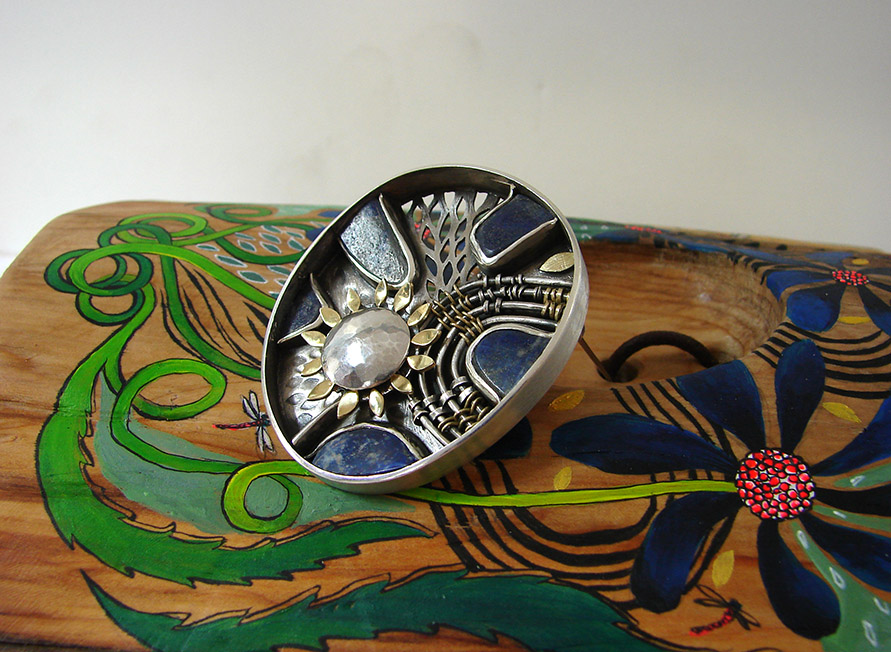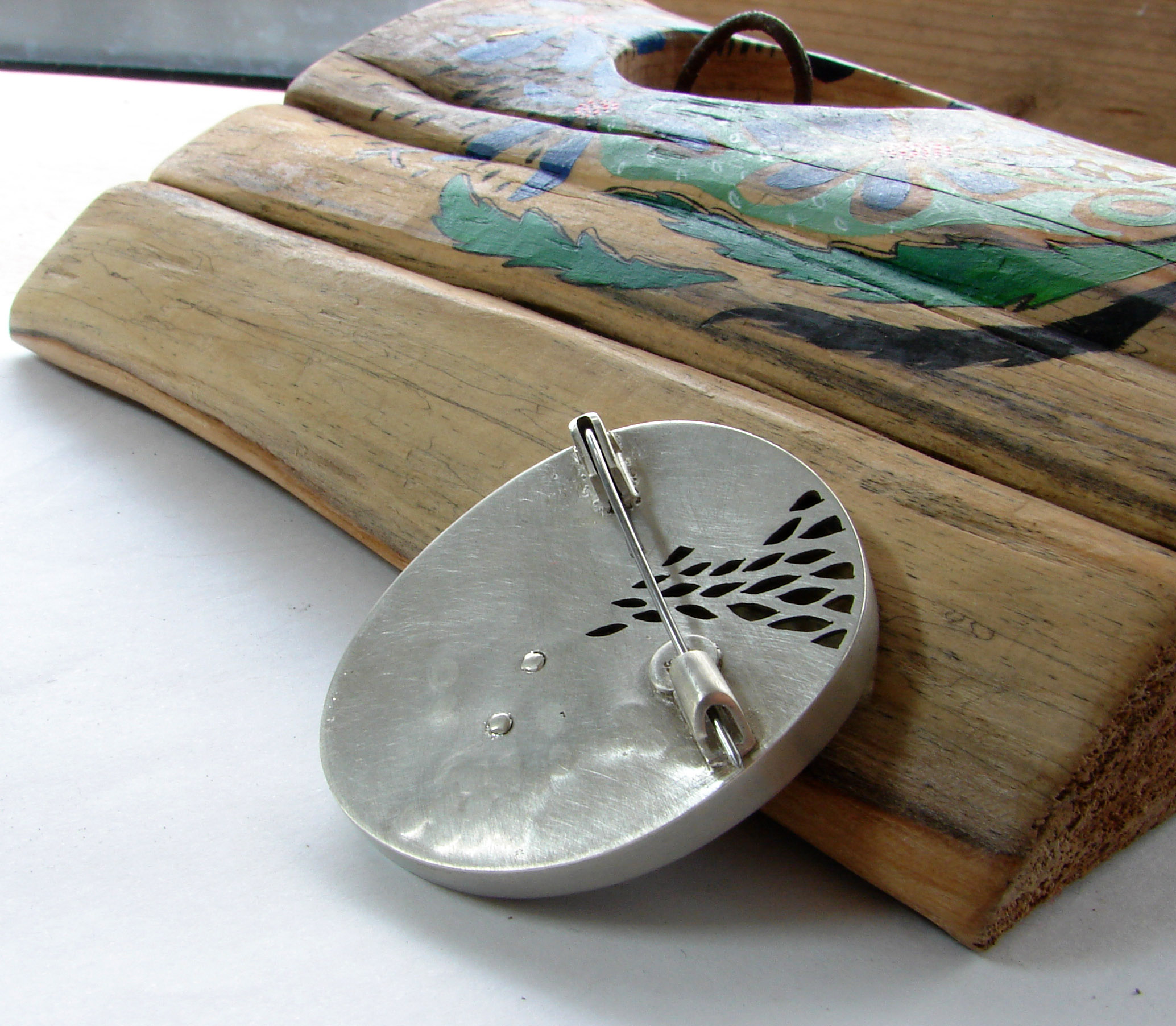 I love working from someone's brief and create objects which will really match someone's taste. Jewel-Object is a truly original present , it is made to order so the possibilities are endless to incorporate personal and meaningful messages into a unique present for a loved one.
Discover more Jewel-Object : https://sylvaineart.com/categorie-produit/jewel-objects/
#bespokejewellery #personalisedgift #handmadejewellery #jewellerydisplay #jewelobject #handmadebrooch #contemporaryjewellery #mixedmedia #uniquegift #anniversarygift #weddinggift #twoinone #sylvainejewellery #paintingonwood #illustrationonwood